In previous blog posts, we've addressed the importance of working globally, especially if you own and operate a business close to an international border, like businesses operating in Western New York. More often than not, it's a grave disservice to NOT work internationally, that is, shipping goods and services to customers and clients in different countries. While we have kept those posts simple, hoping to educate Speed Global clients on the importance of international business, we'd like to dig a little deeper into this exciting world and talk about foreign trade zones.
A foreign trade zone, otherwise known as an FTZ, is a special geographic area that companies use to manufacture, ship, and handle goods, all done without the involvement of customs officials. These can be used when goods are delivered to consumers in a separate country from the one where the FTZ is located.
At Speed Global Services, we can help you take advantage of everything that FTZs have to offer. In most, if not all, cases, FTZs level the playing field in terms of manufacturing and in a world where unfair business practices often take the spotlight, FTZs can take a business to that next level.  With that said, just what are some of the main benefits that come along with using an FTZ?
Well, besides the fact that you are exempt from most customs duties, you can also expect things like relief from inverted tariffs. This means that in most cases, you will be able to import goods and materials at no additional cost, allowing you to take home a larger profit or, as Foreign-trade-zone.com  points out,
"A Foreign-Trade Zone user imports a motor (which carries a 4% duty rate) and uses it in the manufacture of a vacuum cleaner (which is free of duty). When the vacuum cleaner leaves the FTZ and enters the commerce of the U.S., the duty rate on the motor drops from the 4% motor rate to the free vacuum cleaner rate. By participating in the Zones program, the vacuum cleaner manufacturer has virtually eliminated duty on this component, and therefore reduced the component cost by 4%."
And reducing that component cost will go a long, long way in saving money and increasing profits overall. Check out Foreign-trade-zone.com for more details.
In addition, when you use an FTZ, you can also expect improved quality control and inventory tracking. Because you will directly control your warehouse in an FTZ, you will have more oversight over the products and materials you are bringing in. When the identification and inventory process is left up to you and your team, rather than customs officials, you can ensure the job gets done right. It seems that "getting the job done right" is sometimes an overlooked element of any successful business. We're not saying that it's an ignored element or that businesses aren't interested in "getting the job done right" – we're just saying that money and profits can often overwhelm any business owner's mind. We understand this mindset, as it is a dog-eat-dog world out there, but when it comes to customer loyalty and profits in the long run, it's unwise to overlook something as simple as "getting the job done right." Thankfully, by utilizing FTZs, it's just that much easier to focus on that!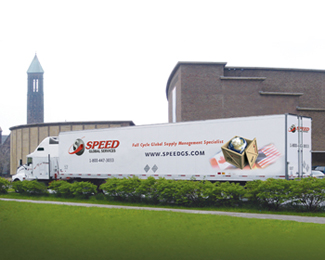 Other benefits of using an FTZ include weekly entry savings, duty elimination on waste and scrap, and even waived customs duties when you are transferring from one zone to another. There are several additional benefits of using FTZs, and we're here to help you take advantage of all of them. For more information about how you can benefit from using an FTZ, contact Speed Global Services today!