There used to be a time when the majority of businesses operated only in the country they were based. This meant they didn't have access to billions of potential clients, thus limiting their profits and growth. But this is no longer the case. New technology and other forces have dramatically increased globalization over the past few decades, more so than any other time in history. Now the average business is selling to customers in at least a couple of different countries.
There are many benefits that come along with globalization. It makes the world's overall economy more independent, because business owners aren't simply relying on income from their own country. They can partner with people from around the world, send their products to new customers, and spread ideas to places that wouldn't have them otherwise.
In addition, countries that have global economies tend to see more growth than those that don't. This means that certain regions that may have been struggling to development are now growing at a faster rate than ever. When products and services can freely move between countries just about everyone involved benefits.
No matter what type of business you own, you should try to reach as many people as possible. While it may not be ideal for every single business, most people would agree that opening up sales to global customers has had a positive impact on their company. At SPEED Global Services, we offer shipping throughout both the United States and Canada. While it's not too far away, reaching customers across the border is a great way to begin globalizing your company–and freight forwarding is essential in making that a reality.
You may have been told that you should take advantage of a freight forwarding service for your shipments, and even if you understand some of the benefits, you may still be wondering how the process works. At SPEED Global Services, we offer a variety of storage and shipping services, including freight forwarding. We're here to give you a basic overview of how the entire process works.
Most companies that import or export products internationally take advantage of freight forwarding services. Essentially, a freight forwarder is a middleman between you, the client, and a local transportation service. When you ship products to another country, or even another location within the United States, you have to deal with multiple agencies, follow several requirements, and worry about several other details. We take care of those things so you don't have to.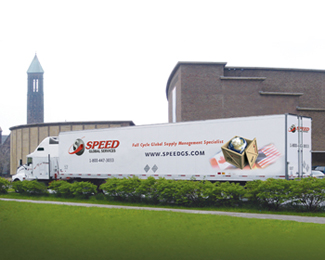 You send your shipments to a freight forwarder, and then they handle all of the rest. From filling out the proper paperwork to getting your products to a local delivery service, a freight forwarder takes care of the entire process. By using this type of service, you can guarantee that your goods get to their final destination without actually having to manage every step along the way.
In general, using a freight forwarding service can save you a lot of time. You can focus on your business instead of worrying about every detail of every shipment you send out. If you would like to learn more about freight forwarding, contact us today!